About Us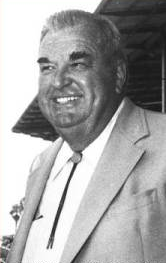 A family owned Anheuser-Busch & Local Orange County Craft Beer Distributor serving Orange County and the Inland Empire since 1948.
We distribute an ever expanding lineup of craft beer with 23 local brands and 10 of the top nationwide brands in our portfolio. We provide more local craft brands than any other Orange County Craft beer distributor and pride ourselves on our superior service.
Straub also provides more than just beer; we have an extensive non-alcoholic beverage portfolio with popular brands in many categories as well as the leading craft chip brand.
Founded by Arthur "Bud" Straub we remain a family owned business to this day.
Over the years we have grown to employ over 330 team members and are one of the largest Anheuser-Busch & Craft Beer distributors in America. We are a benchmark wholesaler in the ABI family!
Our Ownership
Founded in 1948 by Arthur 'Bud' Straub, Straub Distributing now celebrates over 72 years of service and local ownership.
Bud held the company reins as Orange County and Straub Distributing grew side-by-side until his passing in 1981.
In 1981 ownership passed to Bud's four daughters and the business continued to grow as Straub dominated Orange County market share. In 1995, sales hit a staggering 12,260,000 case-equivalents.
Straub Distributing remains locally owned and is in the capable hands of the Straub daughters:
Judith S. Adams
Suzi Baker-Vaughn
Barbara Straub
Pamela Ziebarth
Our Brands
Goose Island Beer Co.
Kona Brewing Co.
Widmer Brothers Brewing
Redhook Brewery
O'Mission
Four Peaks Brewing
Elysian Brewing
10 Barrel Brewing
Karbach Brewing
Breckenridge Brewery
Ninkasi Brewing Company
Rebel Hard Coffee
Brew Pipeline Collab Program
Golden Road Brewing
Bootlegger's Brewery
Left Coast Brewing Co.
Delahunt Brewing Co.
Four Sons Brewing

Drake's Brewing Co.
Slo Brew
ACE Ciders
Common Cider Company
Black Market Brewing Co.
Ritual Brewing Co.
Main Street Brewery
Garage Brewing Company
Coronado Brewing Co.
Karl Strauss Brewing Company
Wild Barrel Brewing
Nova Easy Kombucha

Budweiser
Bud Light
Michelob Ultra
Shock Top
Chihuahua Brewing
Ritas
Kombrewcha

Bud Light Seltzer
Bud Light Platinum Seltzer
BONV!V Spiked Seltzer
CACTI Agave Spiked Seltzer
Michelob Ultra Organic Seltzer
Golden Road Fruit Cart Hard Seltzer
Natural Light Hard Seltzer
Kona Spiked Island Seltzer
Karbach Brewing Ranch Water Hard Seltzer
Pacific Sparkling Hard Seltzer
O'Mission Natural Hard Seltzer
Endless Summer Hard Seltzer
Four Sons Hard Seltzer
Ficks Real Fruit Hard Seltzer
Tio Rodrigo Margarita Seltzer

Rolling Rock
Busch
Hurricane
King Cobra
Natural Light
Bud ICE

Stella Artois
Hoegaarden
Leffe
Estrella Jalisco
Montejo
Cerveza Urbana
Rrëy
Kirin Ichiban
Spaten
Franziskaner
Beck's
St. Pauli Girl
Bass
Boddingtons

Western Son Vodka
Western Son SPIKED ICE
Copa Di Vino
Kendall-Jackson (Secondary Distributor)
10 Barrel Brewing Canned Cocktails
Natural Light Vodka
Nütrl Vodka Seltzer
VOCO Vodka & Soda
Babe Wines
Porch Pounder
101 North California Wines
Ku Soju
Four Sons Distilling
Sacacuento Mezcal

Icelandic Glacial
Zen Water
Crystal Geyser
Tejava
Teavana
Langers
Nesquik
Arrowhead
Arrowhead Sparkling
Nestle Pure Life
Perrier
Perrier & Juice
San Pellegrino Sparkling
Acqua Panna
good2grow
Lemin Lemonade
Brew Dr. Kombucha
Super Coffee
Black Rifle Coffee Company
Chameleon Cold Brew
Coffee-Mate
Reed's Ginger Brew
Virgil's Sodas
Ghost Energy
GFuel Energy + Focus
AMIN.O. Energy + Electrolytes
SWAY Energy + Immunity
Hi Ball Sparkling Energy Water
Jarritos
Mineragua
Sangria Senorial
Sidral Mundet
SueroX
Electrolit
Original New York Seltzer
Michelada Antojitos
Kettle Brand Potato Chips

Devil's Backbone Brewing Company
Wicked Weed Brewing
Platform Beer Co
Camden Town
Birra del Borgo